English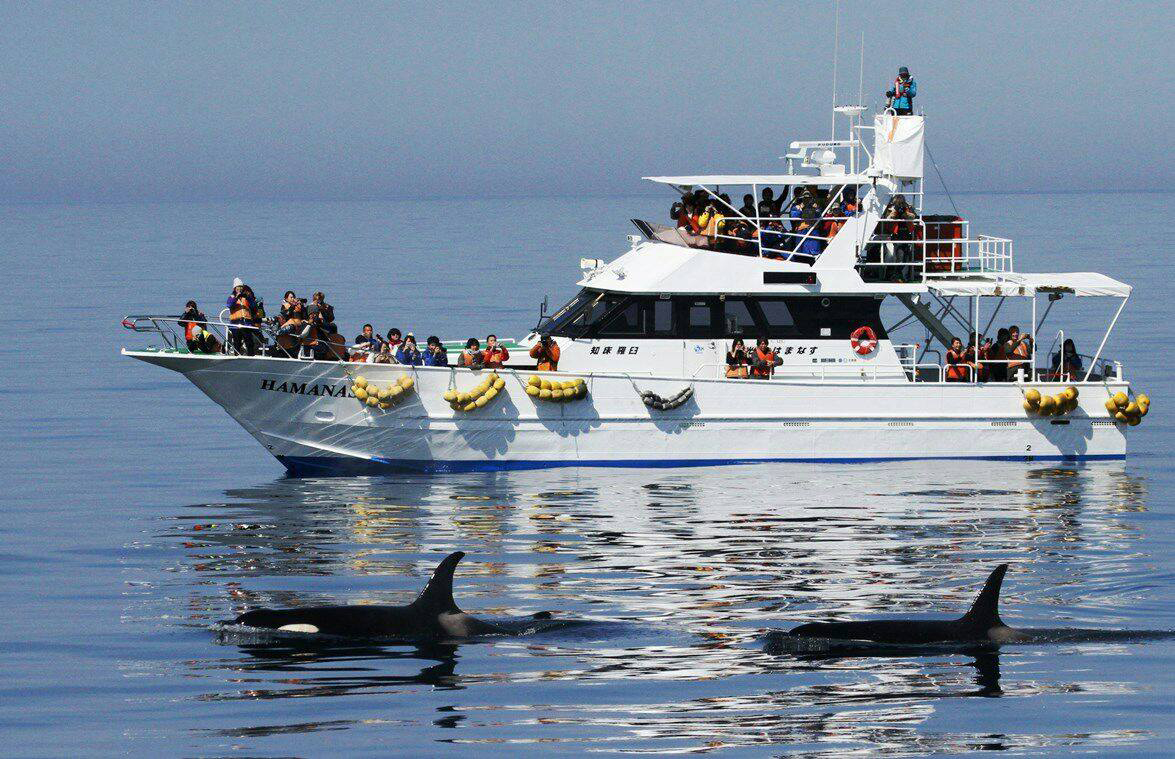 Shiretoko Rausu Whale & BirdwatchingHamanasu Cruise
Welcome to Hamanasu Cruise! We offer whale and birdwatching cruises in Rausu, along the UNESCO World Heritage Shiretoko Peninsula. Join us and we will introduce you to a myriad of fascinating sea creatures and marine birds. Depending on the season, you may encounter, Killer Whales, Sperm Whales, Fin Whales, Minke Whales, Baird's Beaked Whales, Dall's Porpoises, Pacific White Sided Dolphins, as well as Steller's Sea Lions, Fur Seals, Ribbon Seals and Spotted Seals. During winter, the ocean becomes a white wonderland of drift ice, and Rausu becomes home to one of the largest raptors in the world, the Steller's Sea Eagle and the White-tailed Eagle.
Drift Ice
The drift ice that can be seen is Rausu, originates from the Amur River and drifts through the Sea of Okhtsk to reach the Shiretoko Peninsula. Typically, the drift ice in Rausu can be seen from mid January to mid February. The seasonal flow of drift ice brings a vast amount of phytoplankton that feeds the food chain, and sustains the incredibly rich biodiversity and pristine ecosystem of Shiretoko. While Sea Angels (Clione) dance below the ice, Seals, Steller's Sea Eagles and Foxes may be observed above the ice.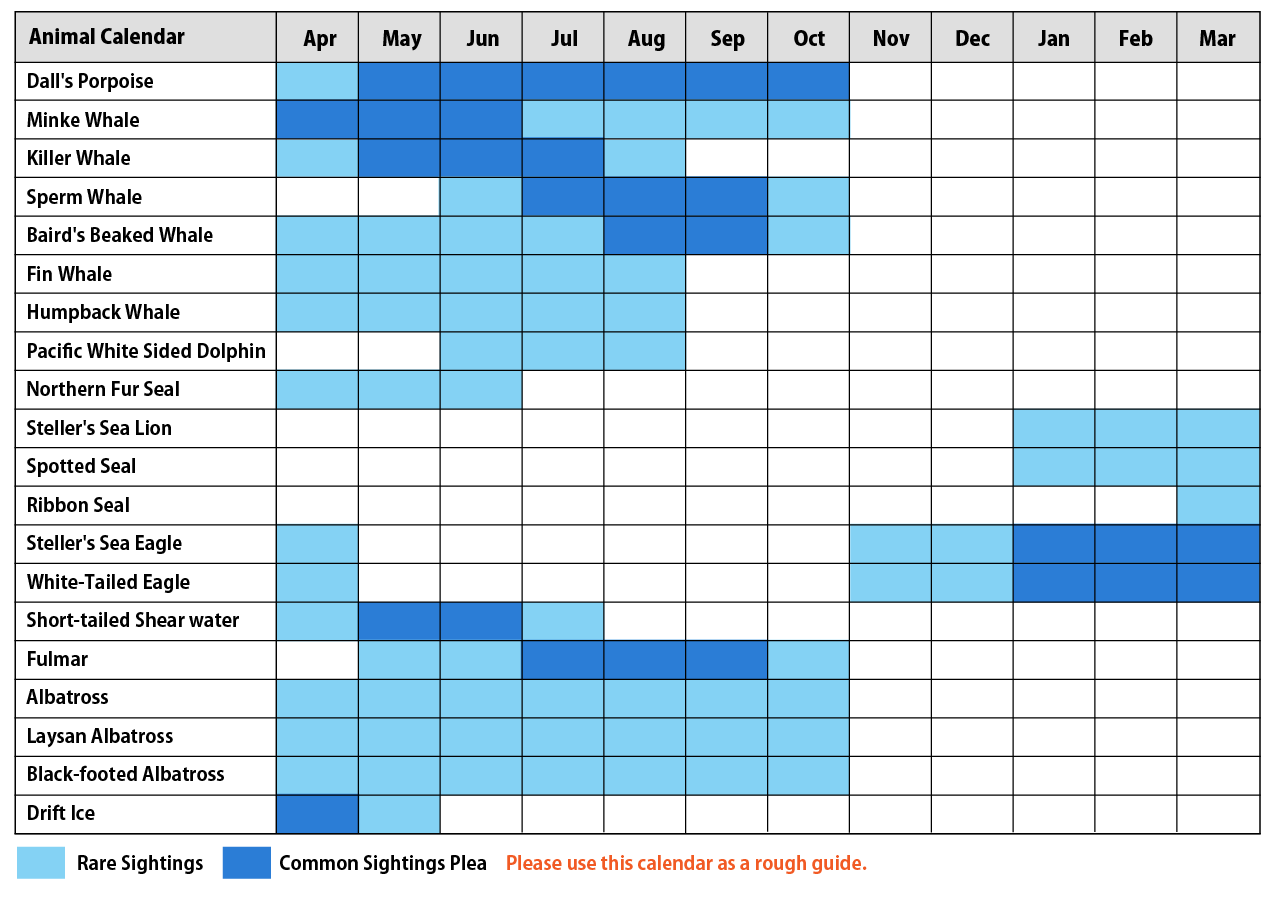 Cruise Information
Our 2~3 hour whale and dolphin watching cruise will take you along the coast of the Shiretoko Peninsula, and back along the midline between Japan and Russia. If the weather is clear, the beautiful snow capped Shiretoko Mountain Range and the Kunashiri Island can be seen.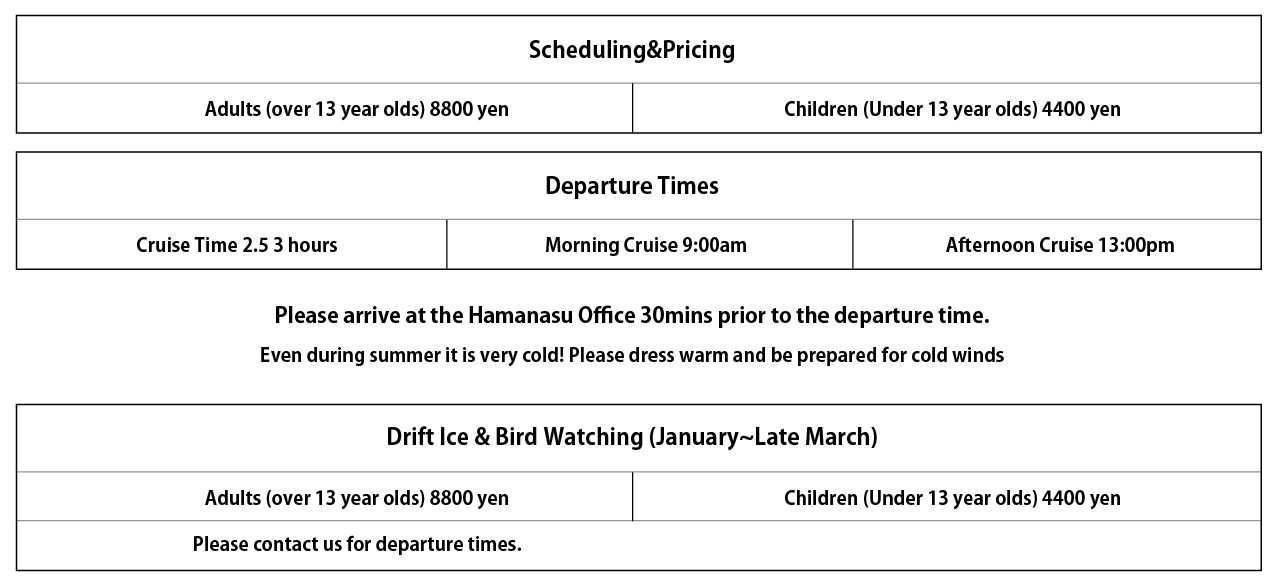 * Please understand that we will not operate unless we receive a minimum of 5 passengers.
* The price is negotiable for bookings of over 10 people.
Reservations: Please email us at hamanasu@marble.ocn.ne.jp for reservations. Let us know your preferred date, time and passenger number! If you make your reservation before 5pm, you will be able to board the morning cruise on the following day.
Cancellations: We do not charge any cancellation fees, however, please let us know as soon as possible. If for any reason we need to cancel a cruise, we will give you a call an hour before departure!
Private Charters: We also offer private charters for groups of up to 60 passengers. Students, tour groups, photographers, videographers welcome!
Contact & Address
Email: hamanasu@marble.ocn.ne.jp
Address:
Hamanasu Whale Watching Office
372-1 Motomachi Rausu Cho
Menashi-Gun
Hokkaido
JAPAN
---

Passenger Safety & Rules
1. If you become physically ill, or if an accident such as theft occurs, please advise a crew member immediately.
2. Please follow staff instructions during disembarkation and in an emergency.
1. Do Not…
– touch any of the facilities on board that are used for the operation of the vessel
– enter any of the prohibited areas on board
– smoke within non-smoking areas on board
– touch or remove the fire extinguisher, emergency alarm devices, life jackets, or any other equipment used in the case of an emergency
– break or remove the safety signs on board
– throw rocks, glass, metal pieces or anything that may harm the boat or passengers
– throw any prohibited items overboard
– annoy or cause discomfort to other passengers and crew
2. Maintain the cleanliness of the boat and public moral standards at all times.
3. Always follow the safety instructions given by the Captain and crew members onboard.
4. Passengers that fail to obey the rules will be asked to disembark the vessel.